Murray High School
Class Of 1992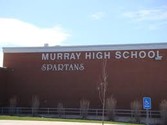 *Reunion Survey*
20 Year Class Reunion Questionnaire:
We are looking forward to seeing so many of our old friends! But right now, it is time to get to work! Okay, it's probably been a while since you've been given any homework, but this assignment is important and fun! It is fun to be able to catch up on what everyone has been doing over the last 20 years.
If for some reason you cannot attend the reunion (and we REALLY would like EVERYONE to attend) we still want to hear from you! Please fill out the questionnaire anyway.
Now, open up your favorite beverage, crack your knuckles, and get ready to type away!!
The answers to your questions will not be published on this website with your name, for privacy purposes, nor will contact information be made public. It will be used by the reunion committee only to contact you about future reunion events.
You must be a member to submit this survey. If you are a member please log in first. You can't submit this form until you've logged in.
* Answer Required

1)
* Do you plan to attend the Friday evening casual gathering at Murray Park?

Yes No
2)
* Will you be attending the Saturday Evening Dinner Party? If so don't forget to purchase tickets on this website.

Yes No
| | |
| --- | --- |
| 3) | What is your current occupation? What is the most interesting job you have held? |
| | |
| --- | --- |
| 4) | Where have you lived since graduation? |
| | |
| --- | --- |
| 5) | What is the most interesting place you have traveled to? |
| | |
| --- | --- |
| 6) | How many miles will you travel to attend the reunion? |
| | |
| --- | --- |
| 7) | What do you do like to do in your spare time - hobbies, interests, etc... |
| | |
| --- | --- |
| 8) | What do you feel is your greatest accomplishment since high school? Feel free to brag here if you like! |
| | |
| --- | --- |
| 9) | If you could go back, what is one thing you would do differently? |
| | |
| --- | --- |
| 10) | What is one thing you know now that you wish you knew in high school? |
| | |
| --- | --- |
| 11) | What is the color and make of the car you drove in high school? |
| | |
| --- | --- |
| 12) | Where did you work in high school? |
| | |
| --- | --- |
| 13) | What do you miss most about high school? |
| | |
| --- | --- |
| 14) | Do you have a favorite memory from high school? |
| | |
| --- | --- |
| 15) | Did you have a favorite teacher or class? |
| | |
| --- | --- |
| 16) | What was your favorite song in high school, and what is your favorite song now? |
| | |
| --- | --- |
| 17) | Where was your favorite place to hang out in high school, and where is it now? |
| | |
| --- | --- |
| 18) | Do you have a most embarrassing moment you would like to share? |
| | |
| --- | --- |
| 19) | Do you have a spouse or significant other? Tell us a bit about them, when you got together, or married, etc. |
| | |
| --- | --- |
| 20) | Go ahead, tell us about your kids! You know...how many, their names, ages, and the one thing you tend to brad about them when you get a chance... |
| | |
| --- | --- |
| 21) | No kids? How about that favorite niece, nephew, aunt, friend, etc...that makes you smile? Don't forget to tell us about your pets - we have some real animal lovers out there! |
| | |
| --- | --- |
| 22) | We've touched on a few topics; if there is something else you would like to share about your life these past 20 years, please add it here! |
23)
This is your opportunity to get involved in the planning of our net reunion as well as give feedback and suggestions. Would you like to help plan our next reunion?

Yes No
| | |
| --- | --- |
| 24) | If yes, so you have a special area of interest that you would like to help coordinate? |
| | |
| --- | --- |
| 25) | Whether or not you want to help, we are still looking for your ideas and suggestions! So, tell us now! |
| | |
| --- | --- |
| 26) | At what year should we hold our next reunion? Any suggestions? |
| | |
| --- | --- |
| 27) | Thanks for taking the time to fill out this questionnaire. We hope to see you in August! Don't forget to sign up ASAP! |